Welcome to Firehouse 3 Museum
The HOTTEST Museum in Racine County!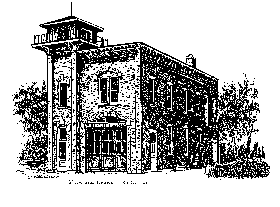 Firehouse 3 Museum is located at 700 Sixth Street in Racine, Wisconsin. This museum is a former Racine Fire Department station which was active from 1882 to 1968. Throughout the years the Fire Station housed a horse drawn steamer and hose cart (1882-1918), motorized fire apparatus (1918-1943), and Racine's first full time Rescue Squad (1943-1968). The station was closed in 1968 when the new Safety Building opened and several companies were relocated.

FIRE - FIRE! This is the cry that has brought fear to the hearts of human beings since the time early man first learned how to master and use this wondrous and awesome gift to his best advantage. Truly, when used and controlled properly, fire is a wondrous tool - one we could not easily live without.



Firehouse 3 Museum is not intended to be a tribute to fire, per Se, rather it is dedicated to the memory of those brave individuals who have spent, and in some instances given their lives to preserve the safety and property of others. This museum is a living memorial dedicated to the Fire Fighters of Racine, living and dead; past, present, and future; who devote their lives to the protection of their neighbors. The momentos and artifacts displayed in this old firehouse are preserved as reminders of what fire fighting was like over one hundred years ago, and how it has evolved into the science of today.



The building has been preserved to reflect the early 1900's. Centerpieces of the Museum include the 1882 Stephen Freemen Steamer which is a Silsby 600 gpm steamer and a 1930 Pirsch 1000 gpm motorized pumper. Other artifacts include a working Gamewell System, Helmets, Hydrants, Nozzles, Hand Drawn Hose Cart, Trophies and Awards which were won by Racine Fire Fighters in the mid to late 1800's, an extensive collection of breathing apparatus from the 1920's to present, and many other pieces of fire fighting history.



Firehouse 3 Museum is proudly presented as an educational experience to the Citizens of Racine. The Museum is maintained and kept operational entirely through the efforts of the Racine Fire Bells. We receive no tax dollars from the City. In addition to the museum the Racine Fire Bells have published the History of the Racine Fire Department in 1992 which was the 150th Anniversary of Fire Protection in Racine. This book is a pure history as opposed to a yearbook.

Take I-94 to the Highway 20 (Racine) Exit. This is Exit 333. Go east to Racine. Highway 20 turns into Washington Avenue which turns into Seventh Street in front of the Museum. The Museum is located at Sixth/Seventh and Grand Avenue (approximately 10 miles off I-94) immediately east of Racine City Hall by the Paul J. Harris Plaza (with the four faced clock).




The Museum is open by appointment (except for major holidays) or call ahead for special tour arrangements outside normal hours. School Group tours are encouraged - Please call ahead. Visit us during Party on the Pavement in September each year or during First Fridays in the Summer!