Racine Fire Bells / Firehouse 3 Museum
Volunteerism - The willingness of people to work on behalf of others without the expectation of pay or other tangible gain.
Work on an impromptu basis recognizing a need and filling that need.
Charity or a Hobby.
Most basic of all values - People helping People and in the process helping themselves.
Volunteering helps to build a cohesive community, fosters greater trust between citizens, and develops morms of solidarity and reciprocity which is essential to a stable community.
Welcome to our Web Site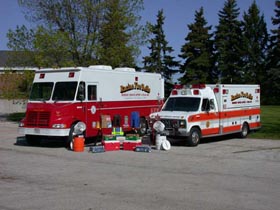 The Fire Bells are a community oriented group of citizens who have banded together in support of the fire service. This is done through two distinct areas of interest: Firehouse 3 Museum, and Fire Bells Emergency Service Rehab. Both areas have equal focus, although Rehab is our most visible, and often spoken about area of service.
The Fire Bells provide rehab coverage in Racine, Kenosha and Walworth Counties serving approximately 50 fire departments and various law enforcement agencies. This is done with two vehicles - one based in Racine and the other based in Lake Geneva. Between the two Rehab Units we just completed 2011 with 80 calls for service.
Donations to the group are always welcome. The Fire Bells are an IRS 501-C-3 Tax Exempt, Not for Profit organization. All donations are fully tax deductible and we will be glad to provide you with a receipt.
Please take a few moments to visit our web site and see what we do and where we go. If you are interested in the fire service in Southeast Wisconsin you have stopped by the right place. Thanks for taking a peek!
Our Mission
To operate and maintain a museum to educate the public on the dangers of fires and firefighting in the community.
To preserve documents, photographs, and relics of the history of firefighting in the City of Racine and surrounding communities.
To devise and give effect to the measures fostering interest in and knowledge of the firefighting profession.
To perpetuate the memory and spirit of the men of the fire-fighting profession.
To maintain and offer our Rehab services, in event of an emergency, to the Chiefs of the recognized Fire Departments of Southeastern Wisconsin or to any other recognized governing body.
What are Fire Buffs / The Fire Bells ?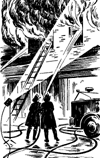 When you mention fire fighters, everyone knows whom you are talking about. Those daring, brave, highly motivated individuals who have made it their chosen career to protect neighbors, friends, family, and communities from one of the oldest adversary known to mankind; Fire! Less well known are those individuals who chase fires at all hours of the day looking for a chance to observe fire fighters in action. Fire Buffs are somewhat a mystery to the vast majority of the population and even some fire fighters find it hard to believe grown men and women would chase fires in bitter cold or sweltering heat just to be near the action. Fire Buffs are unique in their quest to be "students of the fire service".

What makes a Fire Buff? In life all passions have their roots in childhood experiences. Those early impressions not only influence our lives but also can influence what we do later in life. For Fire Buffs chasing massive red fire engines with their red flashing lights, bells, and sirens heralding their appearance as they dash to a blazing infernos leads to images of fire ground heroics, intense heat, and danger. With danger comes a certain amount of excitement; the unknown dangers that fire fighters face with each fire they fight. For many fire buffs there is more to this passion than chasing fire engines. There is a whole tapestry of fellowship, tradition, values, and knowledge gives the buff a rewarding experience of being part of the fire service.
Being close to the action allowed Fire Buffs to get intimate look at fire ground action. As a fire unfolded the buffs, after several years of seasoning, can explain in detail why hoses were laid in a particular fashion, how much water is flowing, what are the tactical advantages of straight stream vs. Fog streams for a given fire, what is happening to a fire based on the color of smoke and the way it moves, when will the Battalion Chief be calling for additional companies, and explain in detail the difference between various fire pumpers and ladders including their strengths and weaknesses. In many instances the Buffs knew more about the department, its tactics, and equipment than the fire fighters who manned the department. Buffs were unique in that they have opportunities to chase many fires citywide where as fire fighters assigned to one station only get an opportunity to see and work with companies in their own district.

Over the years fire buffs have dedicated themselves to the prevention of fire, and the safety and well being of those who fight fires. Fire Buffs have a solid reputation for community service, and are frequently known as the strongest, most enthusiastic supporters of the local volunteer and full time paid fire companies. Quite often a strong bond exists between buffs, fire department officers, fire administration, and runs all the way down to the newest recruit. This bond is built on years of experience and mutual trust that can only come with the passage of time. In many cities buffs are considered to be part of the close-knit fire fighting family.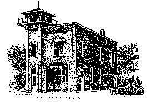 Fire Buffs are involved in other fire related activities also. In some communities local fire buffs preserve the history of fire and conflagration through a local fire museum. The collection of fire fighting artifacts and memorabilia can take many years. Buffs often times have a unique ability to ferret out long lost artifacts and secure those items for display in a fire museum. Fire museums themselves need substantial attention also. House cleaning, and of course polishing of the brass can occupy many hours of a buff's time. Fire apparatus on display in a museum still need occasional attention with periodic cleaning and waxing. Displays need to be rotated occasionally and of course tours need to be given. With their vast knowledge of local fire history, fire buffs provide citizens with an intimate look at fire fighting in years gone by.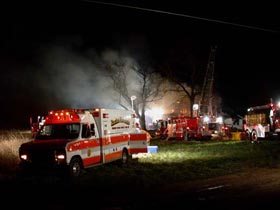 Another aspect of fire buffing is providing a mobile Rehabilitation (Canteen) service for area fire departments. Over sixty groups throughout the United States and Canada respond with local fire departments on all working fires, Haz Mat incidents, and other emergencies for the purpose of providing food, water, and temporary shelter from the environment for fire fighters and fire victims alike. At times when a major fire keeps fire fighters busy battling the flame for an extended period of time, buffs and their Rehab Units supply a hot or cold meal, a cooling drink or a hot cup of coffee, air-conditioned or heated shelter from the elements, and a moment's diversion from the dangerous job they face. On occasion Rehab Units have been used as Command Posts in unusual and unique situations since they often times have the necessary radios and cellular telephone equipment to allow an incident commander to coordinate the ongoing activity.
What is a fire buff? A unique individual with a special interest in the fire service and the fire fighters who protect us 24 hours a day.